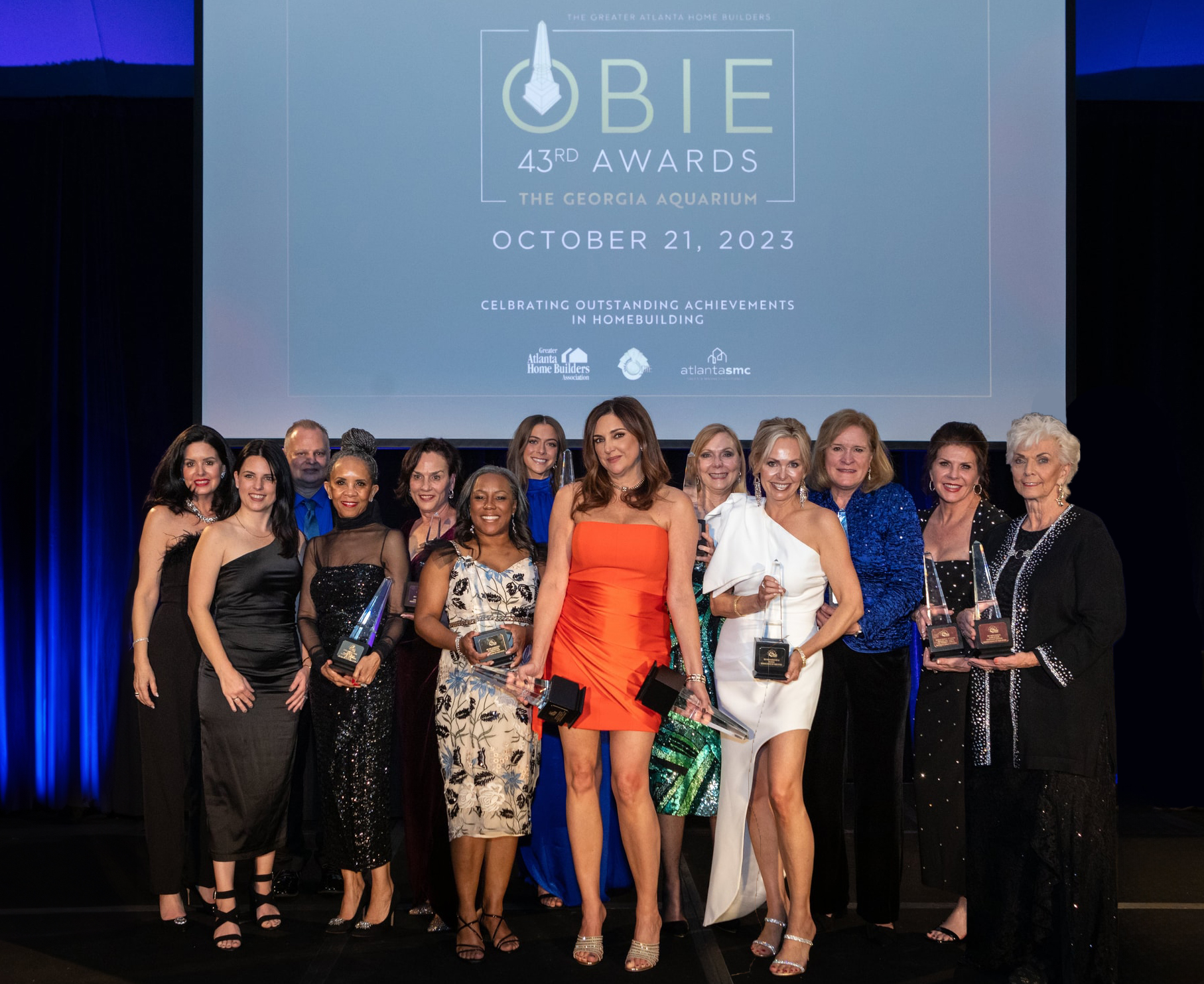 Berkshire Hathaway HomeServices Georgia Properties' New Homes Division Shines Again at 43rd OBIE Awards
The Greater Atlanta Home Builders Association hosted the 43rd annual Professionalism (OBIE) Awards Saturday, October 21st at the Georgia Aquarium in downtown Atlanta. Berkshire Hathaway HomeServices Georgia Properties' New Homes Division, led by President Lori Lane, and their builder clients took home an astounding 30 gold and silver awards.
With over 100 different categories, the OBIE awards celebrate outstanding achievements in homebuilding and highlight those in the homebuilding industry for excellence in building, marketing, and personal achievement. This year Berkshire Hathaway's New Homes Division was honored to receive the gold award for Best Website, Best Online Banner ad, Best Email Marketing Message, Best Newspaper Ad, and Best Print New Homes Publication to name a few.   In addition to winning numerous marketing accolades, Berkshire Hathaway's builder clients Trilith Development, Patrick Malloy Communities, JW Collection, McKinney Builders, Loudermilk Homes, Vision Development Partners, and David Patterson Homes all received top honors.
Lori Lane has earned her reputation as a powerhouse in the new construction industry. Alongside her dedicated team, she has crafted innovative strategies for the marketing and sale of new construction, resulting in the accumulation of numerous industry awards.
As a testament to their unwavering determination and tireless efforts, the New Homes Division also continues to deliver outstanding sales results. For the past 12 months, the New Homes Division has consistently held the position of the #1 Berkshire Hathaway HomeServices office in the region. It also earned a prestigious spot as one of the top 30 offices across the entire Berkshire Hathaway HomeServices global network.
Lori Lane, the President of the New Homes Division at BHHS Georgia Properties and Senior Vice President of Luxury and Global, attributes this success to the team's unwavering commitment. She emphasizes, "Success is about hard work and determination, and you have to pour yourself into it every day." Lane expresses her deep gratitude for the opportunity to work with builder and developer clients she respects and enjoys.
Lane and her New Homes Division are redefining the landscape of new home and luxury real estate sales and marketing in Atlanta. Their continuous contributions are leaving a lasting impact on the city's real estate industry.
The success of the New Homes Division reflects the resilience and commitment of Berkshire Hathaway HomeServices Georgia Properties as a whole. Despite the challenges posed by the real estate market, this division's unwavering dedication to excellence in sales, marketing, and client relationships has propelled it to the top ranks of the Berkshire Hathaway HomeServices regional and global network.
10.27.2023