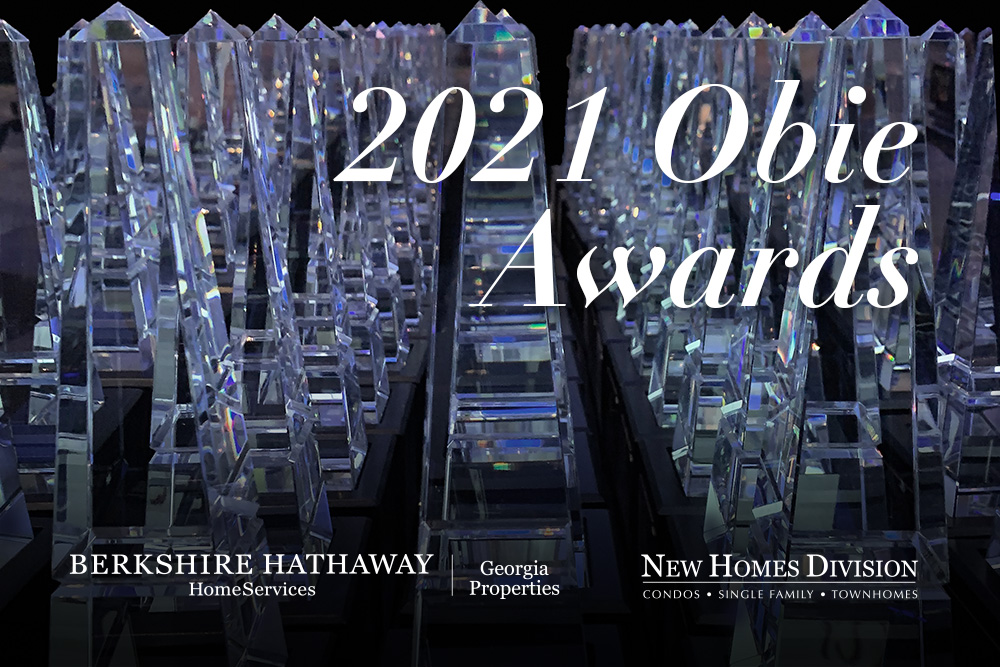 For Immediate Release
October 28, 2021
Atlanta, Georgia (October 23, 2021) – The Greater Atlanta Home Builders Association hosted the 41st annual Professionalism (OBIE) Awards Saturday, October 23rd at the Georgia Aquarium in downtown Atlanta. Berkshire Hathaway HomeServices Georgia Properties' New Homes Division, led by Lori Lane Senior Vice President and Managing Broker, along with marketing partner, Marketing Results, and their builder clients took home an unprecedented 37 gold awards and 25 silver awards.
With over 100 different categories, the OBIE awards celebrate outstanding achievements in homebuilding and highlight those in the homebuilding industry for excellence in building, marketing, and personal achievement. This year Berkshire Hathaway was honored to receive the gold award for Best Community Service Project for their support of the Sunshine Kids Foundation a non-profit organization dedicated to helping children with cancer. In addition to winning numerous marketing accolades, Berkshire Hathaway's builder clients also won top honors.  Trilith Development won 2021 Community of the Year Mixed Use for Trilith in South Atlanta and McKinney Builders won 2021 55+ Housing Community of the Year for The Gardens at Arbor Springs in Newnan.
"I am so proud of Lori Lane, her marketing team and builder clients.  I join our entire organization in congratulating them." said Dan Forsman, President and CEO of Berkshire Hathaway HomeServices Georgia Properties.  "I am especially honored that our company was recognized for our ongoing support of the Sunshine Kids Foundation." 
 "It was an amazing night and so nice to see so many in our industry come together to celebrate homebuilding." said Lori Lane.  "My team and I are proud to work with the best in the industry.  Our clients are dedicated to developing and building award winning communities and it is truly a privilege to be part of their success."
# # #
About Berkshire Hathaway HomeServices Georgia Properties (BHHS) New Homes Division
The New Homes Division (NHD) is honored to represent some of the most respected builders and developers in Metro Atlanta.  Led by Senior Vice President, Managing Broker, Lori Lane, NHD offers cutting edge FULL-SERVICE sales management, marketing, social media, and advertising.  BHHS offers experienced on-site staffing and dedicated new homes sales management with exceptional systems, tools, and training. NHD is constantly focusing on the latest technological innovations to give our builders and developers a competitive advantage.  For more information, please visit BHHSGANewHomes.com.
# # #
About Berkshire Hathaway HomeServices Georgia Properties
Berkshire Hathaway HomeServices Georgia Properties has over 1,600 associates and 26 locations across the Greater Metro Atlanta and North Georgia areas. The company generated over $4.4 billion in sales volume and 11,606 transaction sides in 2020. Trendgraphix reports that Berkshire Hathaway HomeServices Georgia Properties is ranked #1 in home sales for the Greater Metro Atlanta area. Led by president and CEO Dan Forsman, the organization offers a full suite of real estate services including residential real estate, luxury real estate, new homes services, condo/high-rise services, commercial real estate, corporate relocation, property management, mortgage lending, title and settlement services, home warranties and insurance. Equal Housing Opportunity. Visit www.BHHSGA.com.
About Berkshire Hathaway HomeServices
Berkshire Hathaway HomeServices is one of the world's fastest-growing residential real estate brokerage franchise networks, with more than 50,000 real estate professionals, nearly 1,500 offices throughout the U.S., Canada, Europe and the Middle East, and more than $119 billion in real estate sales volume. The network, among the few organizations entrusted to use the world-renowned Berkshire Hathaway name, brings a definitive mark of trust, integrity, stability and longevity to the real estate market. Visit www.berkshirehathawayhs.com.
Contact:
Nicola Schwab
Marketing Manager
Nicola.Schwab@BHHSGeorgia.com
11.09.2021