If you are on the fence about buying a new home now, consider this:
According to a recent article in KeepingMattersCurrent.com "  We recently shared that national home prices have increased by 6.7% year-over-year. Over that same time period, interest rates have remained historically low which has allowed many buyers to enter the market. The Mortgage Bankers Association (MBA), Freddie Mac, and Fannie Mae all project that mortgage interest rates will increase by this time next year. According to CoreLogic's most recent Home Price Index Report, home prices will appreciate by 5.2% over the next 12 months.
What does this mean as a homebuyer?

If home prices appreciate by 5.2% over the next twelve months as predicted by CoreLogic, here is a simple demonstration of the impact that an increase in interest rate would have on the mortgage payment of a home selling for approximately $250,000 today:"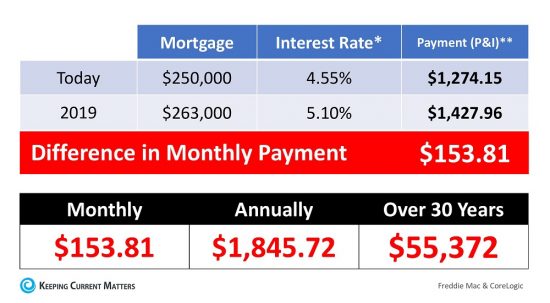 If you are making your move this year, be sure to stop by the Gates at King Springs is to tour the designer decorated model home!  Stop by and take the tour and choose your new home today!
05.31.2018