The weather is perfect to get out and enjoy some local festivals, events and concerts and there is no better place than Historic Norcross.
In June, come out to enjoy the Bluesberry & Beer Festival on  Saturday, June 16 – Betty Mauldin Park at 3-10 p.m.  The  featured performers are Colin Alvarez , Little G Weevil, Cody Matlock, The Blues Hearts and Cazanovas. Local merchants will have "Cool Blues Offers" going on all over town.  Come for the festival and have a great time! Find out more
Who doesn't love great music?  Enjoy the "sweet sounds of summer" in downtown Norcross and get ready for some serious fun at the Summer Concert Series, which runs May thru September in Thrasher Park. The concerts are free and local restaurants are happy to create the perfect picnic for concert goers. So grab a chair, a cooler (no glass, please) and a few friends and come enjoy downtown Norcross and the sweet sounds of summer! 7:30 – 9:30 p.m. at Thrasher Park  Click here to see the bands.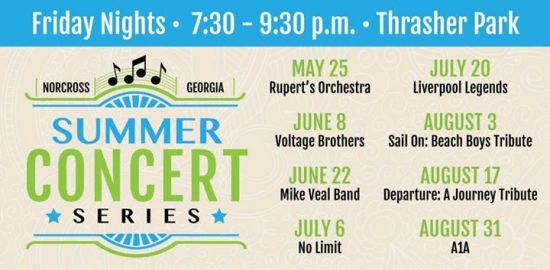 05.31.2018